About TicketWeb
Ticket Your Events with Us
As the world's leading self-service online ticketing and marketing company, the TicketWeb system allows venues and event promoters of any size to manage the full range of ticketing operations on the Web. With nothing more than Internet access and a browser, you can put events on sale and market them through the world's largest ticket distribution network. Not only that, TicketWeb provides you with the most advanced reports to help you track sales progress and build your customer database. There is no software to buy and install, no special hardware required and no updates to worry about. Ticket buyers enjoy remarkable access to events and information all at very low fees.

S

o you're mobile? So are we!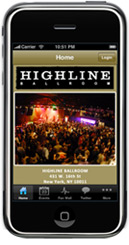 Highline Ballroom
iPhone Application
Custom, venue branded iPhone apps are available, which includes event listing, photo uploads and fan community sharing.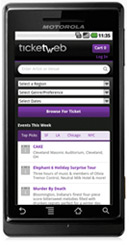 TicketWeb Mobile Site
TicketWeb is Mobile Optimized – the entire site, including the transaction, looks great on any mobile device.
T

icketing. Of course we know ticketing.
Web-based self service event creation and maintenance
Artist data – We use Ticketmaster's expansive database so you don't need to search the web
Complete reporting tools that you can customize and also auto-email
Easy to use web based box office application
Multiple price/promo code flexibility for presales and discounts
Automatic customer notification for event changes
Private labeling to match your website's look and feel
Complete order fulfillment via mail, Print-at-Home, mobile and will call
Email tools so you can create your own weekly newsletters
Ticket scanners that can validate locally or against real-times sales
N

eed website help? We have several options.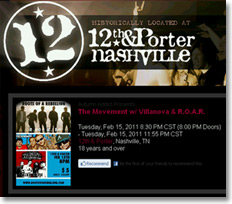 Automatically update your websites event-listing pages with our standard API
Use our Wordpress Event listing plugin
Add simple javascript to your page to display our events widget
Simply point your url to your own private labels events page on our site
Need something different? Just ask us, we've probably got it!
A

nd, our team rocks!
Client Services team in three time zones, 7 days a week
Phone Sales and Customer Service staffed 7 days a week
Customer Live Help so your fans can chat with a customer service agent
S

till don't believe us? Let our clients do the talking.

TicketWeb is all the meat with none of the fat. Easy to use backend - and easy for my customers. Service charges are low, and I get paid fast. What's not to love? People trust TicketWeb. I tried to use some of these "indie" sites before TicketWeb and went through three of them in three years. My phones were flooded with people asking if it was safe to enter their credit cards. What a waste of my time.

- Jake Szufnarowski, Rocks Off Concerts, NYC

The Middle East Nightclub and TicketWeb are a perfect fit. As an industry trendsetter, the social media offerings from TicketWeb easily integrated into our workflow. Sales tracking, facebook event integration, and private label branding are just some of the key services TicketWeb offers that we find invaluable. TicketWeb is the first ticket company we have encountered that keeps ahead of industry and customer preferences, and provides a solid backbone to our operations. TicketWeb makes the hard stuff easy, so that we may spend more time being creative and making our customers happy.

- Clay Fernald - Publicity and Promotions Manager,
Middle East Nightclub, Cambridge, MA.

In the 10 years that I have been a client, TicketWeb has proven itself to be an excellent partner, far exceeding the terms of our contract in performance, support, marketing and consultation. They care about my business and it shows. Overall, it's a great platform to sell tickets from. I couldn't recommend it more highly.

- Guy Carson, Café Du Nord, San Francisco

The Tractor has been with TicketWeb since the beginning. After weighing all the current ticketing options, it was clear we would achieve our best marketing for shows by continuing our partnership with TicketWeb.

- Dan Cowen, The Tractor, Seattle